Keeping it in the family – Mother and Son graduate PgDip and Mphil together
6 February 2022
2022-02-12 17:00
Keeping it in the family – Mother and Son graduate PgDip and Mphil together
Keeping it in the family – Mother and Son graduate PgDip and Mphil together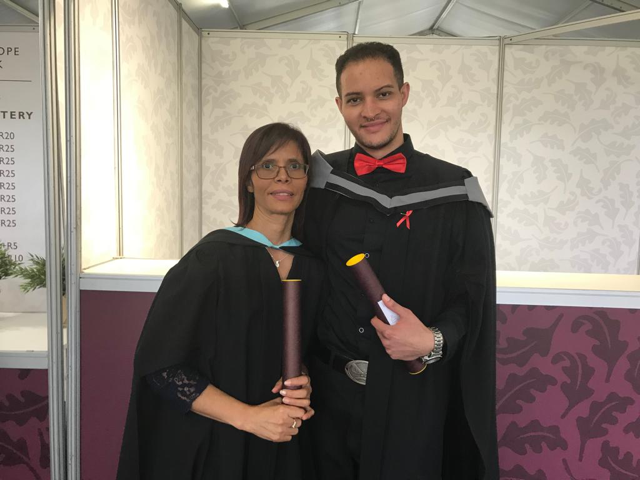 Shireen Strauss and her son, Aidan, both recently successfully completed their Mphil degree and PgDip in HIV/AIDS Management. This Namibian mother and son combination received their respective qualifications at the recent April 2019 graduation ceremony of Stellenbosch University.  
Shireen, who already holds multiple qualifications including a Bphil in Sustainable Development, works in international development and for PEPFAR. She says that the MPhil HIV/AIDS Management has given her indispensable knowledge and confidence to interact and relate to the epidemic as a development professional. Says Shireen, "the qualification can open so many doors. If you choose your research study judiciously and purposefully, it can indeed give you a career boost." Most importantly, Shireen says that she learnt that in order to make a meaningful contribution to the attainment of epidemic control, a sustainable response to HIV/AIDS in people-focused development is best accomplished through a trilateral approach, involving government, private sector and civil society. "This is what the degree equips you with."
According to Aidan, his mom was his inspritation because she did so well in her studies at the Centre. Aidan, who also holds a Bachelor of Science degree in Biomedical Science apart from the recently obtained PGDip, is currently pursuing the Mphil in HIV/AIDS Management and hope to graduate in March 2020. Says Aidan, "I actually enjoy studying at the Centre, and look forward to the rest of the year as my MPhil research project unfolds". Aidan's personal goal to be where it matters and making a difference in people's lives. "I believe that my research or the profession that I will eventually choose, will hopefully enhance this goal. The HIV/AIDS epidemic robs the planet of its most valuable resource….the people, therefore saving lives is at the forefront of a development strategy; and I want to be part of it".
The Africa Centre wishes these two excellent scholars all the best for their current and future academic endeavours!