World Aids Day 2022: The true battle is against stigma and discrimination
2 December 2022
2023-04-26 21:29
World Aids Day 2022: The true battle is against stigma and discrimination
World Aids Day 2022: The true battle is against stigma and discrimination
[Stellenbosch] In commemoration of World Aids Day (WAD) on 1 December, the Africa Centre for HIV/Aids Management hosted a community event with guests from Stellenbosch University (SU) as well as community-based organisations and schools from the neighbouring communities (including Kayamandi, Jamestown, Cloetesville, Mitchells Plain and Blue Downs) in attendance. The message from the day's activities and the calls to action from prominent sector and community leaders was clear: combatting stigma and discrimination against people living with HIV and Aids is critical to reducing new infections and to encouraging health-seeking behaviours and adherence to treatment.
To lay the foundation for the message that there is no shame in HIV and that it's important to know your status, the day started with prominent SU leaders undergoing public HIV tests. They included Prof Nico Koopman (Deputy Vice-Chancellor for Personnel, Social Impact and Transformation), Dr Leslie van Rooi (Senior Director for Social Impact and Transformation) and Dr Munya Saruchera (Senior Lecturer and Interim Director at the Africa Centre). Prof Ingrid Woolard, the Dean for Economic & Management Sciences (which the Africa Centre is part of) took an HIV test the day before WAD. Attendees also had the opportunity to test for HIV in the course of the day, as well as for diabetes and substance abuse, or undergo TB screening.
A marimba band and song and dance performances by the Kuyasa Kids (a performing arts group of children from Kayamandi in the Stellenbosch area) provided entertainment throughout the day. Stalls from several healthcare providers offered easy access to various health services, tests and demonstrations. To encourage attendees to visit each stall and engage with the services and information provided, DVERT Health Group hosted a fun competition where attendees had to provide feedback on what each stall was about and what they learned.
The keynote speaker was Prof Azwihangwisi Helen Mavhandu-Mudzusi, Head of Research and Graduate Studies at UNISA. Her niche research areas are people living with HIV and LGBTQI+ individuals, especially in rural communities. She pointed out that the SA Constitution was, ironically, the first in the world to provide for non-discrimination against people based on sexual orientation. Yet, people living with HIV and LGBTQI+ individuals in South Africa continue to face hostility, and these prejudices manifest in several ways.
Many people choose to stop their Aids treatment for fear of gossip, or neglect testing for HIV in the first place. Those who do seek medical treatment often face blatant discrimination and humiliation: "If an HIV patient's drip is out, nobody will reinsert it; if anyone does decide to reinsert it, they tend to wear an excessive amount of protective clothing," Mavhandu-Mudzusi explained.
She also highlighted the personal impact, where people living with HIV choose not to disclose their status to family and loved ones, and LBGTQI+ individuals hide their gender identity and engage in risky sexual practices. "It's only when people living with HIV can freely disclose their status and adhere to antiretroviral treatment that we will reduce new HIV infections," she emphasised. In the spirit of the day, Mavhandu-Mudzusi gave the learners in the audience the opportunity to ask questions, encouraging open and honest conversation and giving them a voice. The children were from Stellenzicht High School and Weber Gedenk Primary (both in Jamestown), Idas Valley Primary and Luckhoff High (both in Idas Valley), and Cloetesville High School and Rietenbosch Primary (both in Cloetesville).
Several stakeholders from SU as well as René Sparks, founder of Health Advocacy & Clinical Compliance South Africa (HACCSA), took to the stage to add their voices to the ongoing battle against the HIV/Aids pandemic. Koopman captured the essence of the importance and objective of creating awareness when he said, "New infections tell us we should focus on this pandemic with renewed action. We should persevere in working for a world of dignity, healing, health and wellbeing for all."
While there is work to be done, there is also much to celebrate. To acknowledge the progress that community-based organisations – which often work under difficult circumstances and with little or no resources – are making in the fight against HIV and Aids and other conditions such as diabetes and substance abuse, the following organisations received community service awards from the Africa Centre: Health Promoters South Africa, DVERT Health Group, @Heart, Right to Care Kayamandi and Mitchells Plain Diabetic Support Group. "These strong partnerships and the diverse groups of attendees today are proof that the Africa Centre is not alone in its work in this field," said a gratified Saruchera.
Students and alumni of the Africa Centre also shared testimonials about how the centre's academic programmes on managing HIV and Aids in the world of work (a postgraduate diploma, an MPhil and a PhD) have enabled them to play a role in helping to turn the tide. The objectives of these programmes are perfectly aligned with this WAD event message that epidemics and pandemics not only require medical intervention but that behavioural changes are critical. Says Saruchera, "Behaviours and attitudes are often rooted in communities and the world of work. HR and other managers who complete our courses are equipped to facilitate and encourage healthy behaviours and to address and eliminate stigma and discrimination."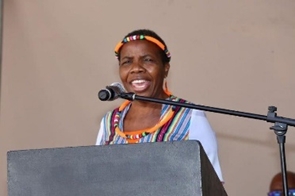 Prof Azwihangwisi Mavhandu-Mudzusi spoke about how the challenges of people living with HIV as well as LGBTQI+ individuals, including prejudice, may lead to high-risk behaviour.
Sister Vuyelwa Mdala from @Heart with Dr Munya Saruchera of the Africa Centre for HIV/Aids Management.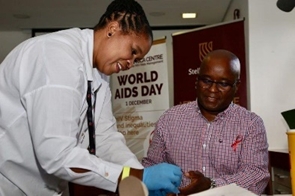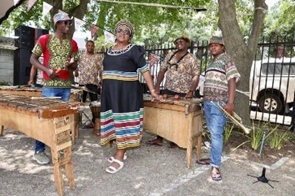 The Rainbow Sounds Marimba Ensemble from Guguletu entertained guests. Here they are with Faith Booi, an alumnus of the Africa Centre's postgraduate diploma in HIV/Aids Management.
The Kuyasa Kids is a performing arts group of youngsters from Kayamandi and entertained guests with their lively singing and dancing. They also tour international to raise funds and gather sponsors for HIV/Aids orphans.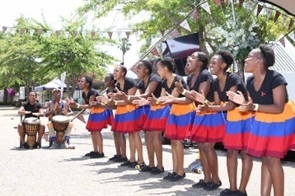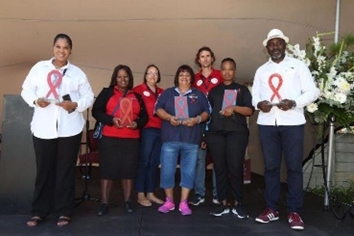 Awards were presented to community organisations for their contributions to the fight against HIV and Aids and other health conditions with awards at the Africa Centre's World Aids Day community event. They included Health Promoters South Africa, DVERT Health Group, @Heart, Right to Care Kayamandi and Mitchells Plain Diabetic Support Group.